Dissolving your stories;
Creating exponential success

Straight Up One to One Transformational Coaching
As a qualified executive and transformational coach I have a number of tools and technics available to me and that I could teach you, but...I'm not going to!  We are all one search and a click away from living the best life we could ever live.  10 top tips for this, 10 top tips for that.  That's not how I work.

I support my clients to transform their lives by helping them to understand themselves and how their moment to moment experiences works.  With an understanding of neuroscience and subtractive psychology, I love to build meaningful relationships with my clients and shift their thinking.
My role in the coaching process is to be curious, to listen and allow you the thinking time and space to access your own innate wisdom.
This is how I work:

Playful curiosity
Using curiosity to explore your sense of reality. In short, I ask lots of questions.  All coaches should, but I don't ask questions that you already know the answer to.  You're living your life based on things that you know.  I'm more interested in what you don't know.  Being 'playful' is really important as we need to get out of our own head.  Change happens when we are most at ease and are in a comfortable 'thinking space'

​
Diving deep
Diving beneath your surface; My curiosity goes deep to explore the assumptions you have about who you are and how your world works.  Certain assumptions (beliefs) may have got you to where you are now, but they may not be serving you anymore.  Our past experiences are not holding you back, it's the stories that we unwittingly tell ourselves and develop as part of our internal programming that hold us back.  Part of the illusion of life. 

Understanding your power
Understanding your innate capacity for wellbeing, clarity and wisdom.   Understanding the potential for exponential growth means understanding a new power within you.  It's natural to develop a sense of identity, we do this from early childhood, however this identity may no longer serve us, and so it's time to uncover who you truly are.

​
Taking action
This speaks for itself; our time won't be just talking, it will be creating plans, taking action and holding you accountable for progressing in the areas most important to you.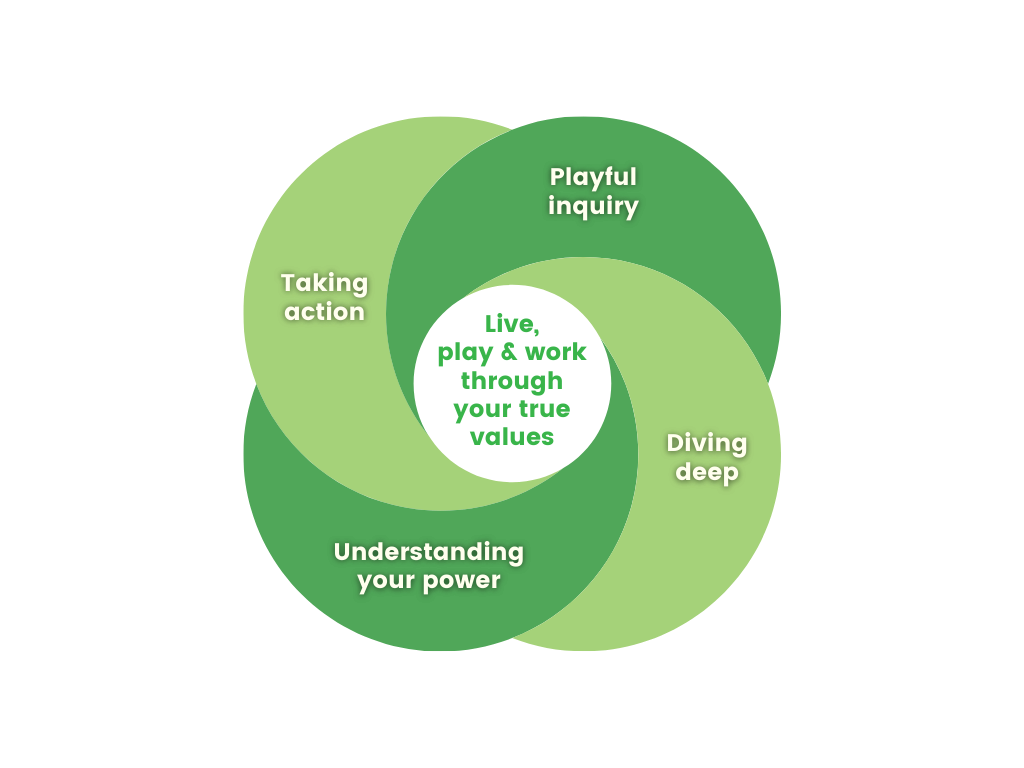 In the video below I talk about the 3 breakthroughs that Jo had when going through my four-step coaching process
How do I work with my clients?



I generally work with my clients for a minimum of 3 months.  I don't offer single sessions; or charge by the hours.  Transformational coaching is about the relationship we create and the journey we travel together, and my clients know that they need to coaching is an investment in themselves. 
How to work with me?

1) Book in a call to explore if working together would be a good fit
​
2) If we both think that working together would be a good fit, then we create a package that works for you.
​
3) That's it...the journey begins